Jiangsu University Presidential Scholarship 2022 in China (Fully Funded)
Posted by

Date

5 July 2021

Comments

0 comment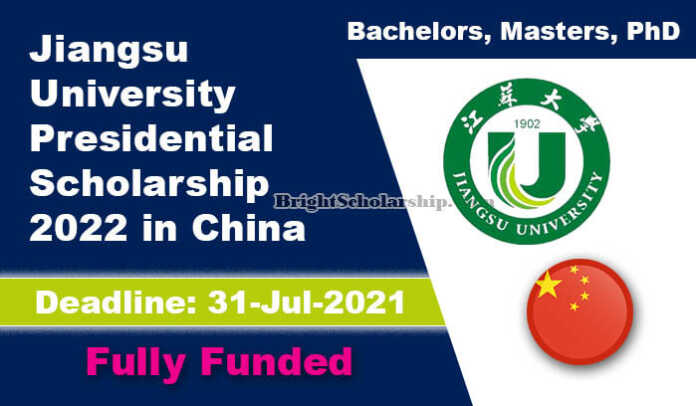 University: Jiangsu University
Degree level: Undergraduate, Masters, PhD
Scholarship coverage: Fully Funded
Eligible nationality: International
Award country: China
Last Date: 31 July 2021.
Applications are invited to apply for the Jiangsu University Presidential Scholarship 2022 in China. Jiangsu Provincial Government in collaboration with Jiangsu University is actively offering a lucrative scholarship scheme to international students for the academic year 2021-22. All International Students are eligible to apply for Fully Funded Scholarship in China. The award is available for students from all over the globe to Pursue a Bachelor's Degree, Master's Degree or Ph.D. Degree from China.
This program is targeted toward improving the profile of Jiangsu Education to the world and supporting the higher education of overseas students. This is a very helpful program through which you can earn quality education in China without worrying about educational expenses.
Jiangsu University is formed as Sanjiang Normal College in 1902 making it one of the oldest higher education institutions in China. It was opened by merging the former Jiangsu University of Science and Technology, Zhenjiang Medical College, and Zhenjiang Teachers' College. The university holds a global reputation for excellence in education and research. In addition to education, they encourage students to gain practical experience and demonstrate creativity.
Financial Benefits:
Jiangsu University Presidential Scholarship 2022 offers two types of Scholarships one is Fully Funded and the other is Partially Funded for students all over the world. The detail of these scholarships is given below:
Full Scholarship:
Fee waiver of tuition, registration, laboratory experiments, internship, and basic textbooks
Cost of experiments or internships beyond the programme curricula is at student's own expense
Cost of books or learning materials other than required basic textbooks is at student's own expense
Free on-campus dormitory accommodation or an accommodation allowance of CNY 10,000 per year
A living allowance of CNY 1,500 per month
Scholarship recipients registering before the 15th of the registration month (the 15th included) will be granted the full living allowance of that month.
Recipients registering after the 15th of the registration month will only be granted half of the living allowance of that month.
Comprehensive Medical Insurance and Protection Scheme for International Students while in China.
Partial Scholarship:
College student: CNY 20,000 per academic year;
Undergraduate student / Postgraduate student: CNY 30,000 per academic year;
Non-degree programme student / Exchange student: CNY 2,000 per month.
Documents Required:
Valid copy of passport
Degree Transcript (Notarized English translation if applicable)
Degree Certificate (Notarized English translation if applicable)
English language proficiency certificate (non-English speaking countries)
HSK-4 certificate (for Chinese-Medium programs)
Family financial statement
Research proposal (Master and PhD only)
Two Letters of Recommendation (Master and PhD only)
Eligibility Criteria:
Eligible Countries: Applications are accepted from around the world
Eligible Course or Subjects: Undergraduate and postgraduate degree program in Engineering, Insurance, Financial Management, Finance, Accounting, Statistics, Automation, Commerce, Business, Marketing, Human Resource, science, etc.
Eligibility Criteria: To be eligible, the applicants must meet all the following criteria:

Must be international students
Must hold an offer to study in an approved program at the university.
Application Deadline: 31 July 2021.
Apply from here: Official Link