Richard and Susan Hayden Academy Fellowship 2021
Posted by

Date

23 June 2021

Comments

0 comment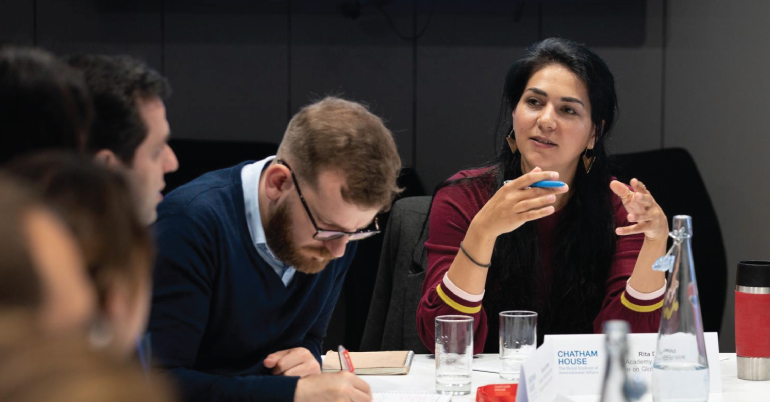 DEADLINE: June 28, 2021
TIME LEFT: 5 Days
Fully Funded
Richard and Susan Hayden Academy Fellowship is open to candidates from around the world and who are at the mid-stage of their career working in academia, NGOs, business, government departments, civil society, or the media.
This fellowship is a joint initiative with Richard and Susan Hayden. It offers candidates at the mid-stage of their career the opportunity to spend ten months at Chatham House working on a personal project of their choosing.
Fellows take part in the core work of the Institute, developing their skills through the leadership program, and furthering their professional network in the field of international affairs.
 Benefits
The fellow will receive a monthly stipend of £2,365. Modest provision is made for the costs of relocation, fieldwork and possible publication costs.
The stipend will cover London living costs, including accommodation, utilities, food, transport and other basic expenses. The following is intended to provide a rough guide on the cost of living essentials in London.
Accommodation: £125-150 per week for a shared house or room in halls of residence.
Bills (e.g. water, electricity, gas, internet): £70-100 per month.
Food: £40-60 per week.
Transport: £25-40 per week. Buying a monthly or annual Oyster travel card will provide the best value.
 Eligibilities
It is required that the applicant holds a completed BA degree or equivalent. Master's degree with an international focus is preferred.
The fellowship is aimed at candidates at the mid-stage of their career and who come from academia, NGOs, business, government departments, civil society or the media. They should possess knowledge of, and an interest in, the policy challenges related to global governance.
We do not impose age restrictions for applicants. However, Academy fellowships are aimed at individuals at the mid-stage of their career.
Fellows are expected to work full-time towards their fellowship and therefore it is not possible to undertake a fellowship at the same time as pursuing work or studies (such as for a PhD).
Eligible Regions: Open for All
APPLICATION PROCESS
To apply for this Scholarship they need :

Your CV/resumé
The names of two references (of which one should be academic)
The applicant's proposal for a research project

You have to provide your Personal Information.
Stage one: complete the application. Once the submission period ends, all applications will be reviewed and shortlisted by their selection committee.
Stage two: shortlisted applicants will be invited to an interview by Zoom. The interviews are carried out by a member of senior management at Chatham House and may include a senior representative of the organization sponsoring the fellowship. After this round, fellows will be selected and notified via email.
You have to submit your application through an online submission form.
Application Deadline: June 28, 2021 (5 Days Remaining)
Apply from here: Official Link