National University of Malaysia Scholarship 2022 (Fully Funded)
Posted by

Date

9 July 2021

Comments

0 comment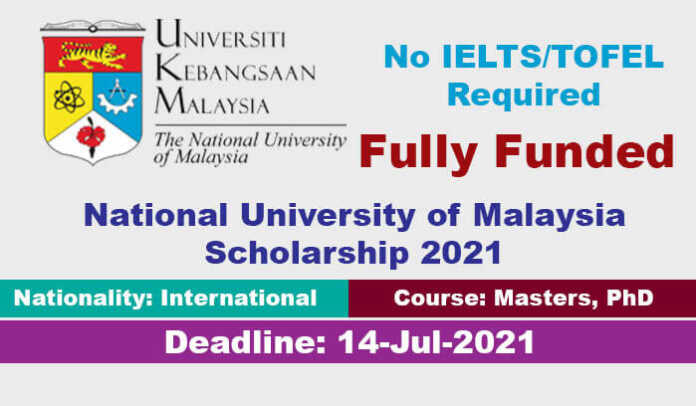 University: National University of Malaysia
Degree level: MS, PhD
Scholarship coverage: Fully Funded
Eligible nationality: International
IELTS/TOFEL: Not Required
Award country: Malaysia
Last Date: 14 July 2021.
Applications are opened to apply for the National University of Malaysia Scholarship 2022 in Malaysia. All International Students from all over the world are eligible to apply for Universiti Kebangsaan Malaysia Scholarship. Malaysian Scholarships is a Fully Funded Scholarship that will cover all the necessary expenses to Pursue a Master's Degree or Ph.D. Degree at the University.
Applicants from around the world with any nationality are eligible to apply for the Master Degree Programs & Ph.D. Degree Programs without any age Restrictions or academic Restrictions. There is No Need for IELTS/TOEFL. UKM Vice Chancellor's Gold and Silver Scholarship Applicants holder will receive equal Benefits of the Tuition Fee waiver, Monthly Allowance, Accommodation, Visa cost & Return Airfare.
The National University of Malaysia is a public university located in Bandar Baru Bangi, Selangor which is at the south of Kuala Lumpur. The National University of Malaysia is one of six research universities in the country. It is ranked at 160th position in the world in the 2020 QS World University Rankings making it a top-tier university internationally.
Financial Benefits:
National University of Malaysia Scholarship is a Fully Free Scholarship for International students at UKM University. The Scholarship will cover all the expenses for the Selected Participants.
Complete Tuition Fee
Free Registration
No Fee for Thesis and convocation
Living allowance of RM3200.00/Month for PhD & RM2200.00 for Masters
Accommodation allowance of RM300.00/Month
One Round Trip Flight Ticket (Economy Class) to Kuala Lumpur International Airport (KLIA) from home country and to home country from KLIA for International, Sabahan and Sarawakian candidates
Cost of visa throughout postgraduate studies (International students only).
Scholarship Duration:
The Duration of the Universiti Kebangsaan Malaysia Scholarship for Master Degree Scholarship & Post Doctoral Scholarship.
Master Degree: 2 Years 
Doctoral Degree: 3 Years.
List of Available Study Fields:
A wide range of academic Fields to Study at the National University of Malsyai is available. All Courses are available in Kebangsaan University in Malaysia in English such as:
Biomedical
Business
All Engineering
Economics & Management
Education
Social Science
Law
Dentistry
Humanities
Health Science
Medicine
Information Science & Technology
Science & Technology
Islamic Studies
Environment & Development
Malay World & Civilization
International Studies
Microengineering & Nanoelectronics
Molecular Biology
Ethnic Studies
Fuel Cell institute
System Biology
Visual Informatics
Eligibility Criteria for Malaysian Scholarships:
International Students are Eligible.
For Masters Degree Students: candidates must have obtained a Bachelor's Degree with Distinction CGPA of at least of 3.67 or a First Class Bachelor's Degree or equivalent
from a reputable university
For PhD Aspirants: candidates must have obtained a Master's degree or equivalent from a reputable university; MUST have published at least TWO.
Application Deadline: 14 July 2021.
Apply from here: Official Link